This past September, the Abat Oliba CEU University in Barcelona, Spain, held the first European Congress of Christian Anthropology and Mental Health Sciences. The purpose of the congress assembly is to address the separation between mental health sciences and Christian anthropology, and to deepen the holistic vision of psychology and health sciences.
Divine Mercy University's senior scholar and professor, Dr. Paul Vitz, was in attendance to present the Catholic-Christian Meta-Model of the Person (CCMMP), and spoke with reporter Jordi Picazo from ZENIT.
Below is the transcript of that interview:  
Jordi Picazo: Dr. Vitz, you work intensely in the field of anthropology/psychology, and more specifically in the fields of philosophical and transcendental anthropology and the psychospiritual dimension of the human being, to recover knowledge about what makes us human. Is this an urgent task today? 
Paul Vitz: We are immersed in a global cultural crisis when it comes to recognizing what is specific to the human person. And there are those who say that there is no nature and therefore we can manipulate the human person — biologically, genetically, politically — at our whim. And this is done using ideology or even science, as a "shotgun loaded" to change the concept of the person. So now we have animal and human hybrids, we have people who identify with animals, we have the same transsexual ambiguity and these are signs of the loss of understanding of what the person is. They are creating a huge identity crisis both on the right and on the political left. 
Both sides of the political spectrum are responding to this. The left responds by saying that there is no identity, that there is no human nature, that we can manipulate the person and force them to our liking, sometimes with a cultural pressure that aims to define it superficially, other times even thinking about getting close to some scientific current and creating people — biologically freaks, hybrids, essentially monsters.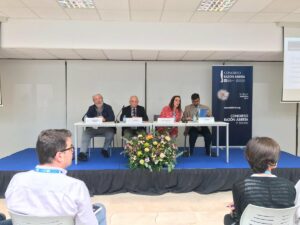 On the right side there is a return to identity based on race, ethnic identity, nationalisms. And this is the tradition in many cultures throughout history, that of the struggle of one tribe against another tribe. In this context you can refer to, for example, Anglos and Saxons against the Celts two thousand years ago in England. So we have always had group identities based on race or language, or geographical settlement. And if you reduce everything to that, you reduce everything to a crisis that has lasted since ancient times. And as a result you reduce the person to the culture you want and to any parameter you want, because by controlling biology and culture the person is reduced to an already archaic and certainly fascist crisis. You decide — or a crisis of confusing and meaningless self-referentiality. 
There has to be an intermediate position. Those two extremes are new forms of idolatry. People who identify with the extreme left or the extreme right are at the bottom worshiping a human solution of life that leads to no solution. 
So in our meta-model, we define the person at a theological level, at a philosophical level and then at a psychological level. The three definitions are compatible with each other although they exist on three different conceptual levels, each with its own epistemology. We also explore that the understanding of a person is not only the understanding of their traumas and their past pathologies. Instead, we are very much in line with the positive psychology movement, which is not explicitly religious, and we are in line with the notion of "unfolding," in a sense of flourishing. Once we know what the human person is, we can know what it means to "unfold." To unfold is to move toward the objective of the person, that for which we are made. But we cannot unfold unless we know what we are and what we are made for. We present the idea that we have been made to display a vocation, a vocation for personal spiritual growth, to adopt a relationship of commitment to some state of life such as commitment in marriage, a celibate life or religious life. And we are thus committed to deploying ourselves through a form of work and creative leisure that helps society. 
And this is what we offer in our meta-model: a profile of the nature of the person with whom I believe that the majority of reasonable people will be able to agree and which they may face formally and seriously, even if they are not Christian. With some modifications this model is also appropriate for Jews, and possibly for atheists. So we propose to define the nature of the person in dimensions that all thinkers must finally address: on the paths of theology, philosophy and psychology, since to "unfold" the person requires purpose, morality and levels of understanding above basic psychology. And this is what is new in our meta-model, the integration of these disciplines in a way that reinforces each other. 
Jordi Picazo: "Deploy" and empower, don't you always use them as synonyms? 
Paul Vitz: Empowering is about ourselves, it is still an art of self-worship, people who have a lot of power often compete and attack each other. So, what you get by giving people more power is creating more conflict. Because power is not what we are supposed to aspire to. We are supposed to work toward a love of donation toward the other, toward the "unfolding" of our abilities. In this way, empowerment is strictly a primarily secular term used to affirm that we will give women power so that it can be as powerful as men. And what this means is that men and women will fight harder. 
Jordi Picazo: You have commented that your team at the DMU (Divine Mercy University) is trying to do with psychology the same thing that Saint Thomas Aquinas did with theology. What are the risks and dangers of leaving this urgent task of shaping the foundations of human nature to reductionist disciplines? 
Paul Vitz: That's right. This model, as we have made it known, is the response of Saint Thomas Aquinas to modern psychology. The danger of reductionism is that there is no understanding of what purpose is, or what it means to unfold. And that is how we end up reducing our condition to a material substance that can be manipulated at will according to the form of power at your disposal, whether it is social power or biological power. That is only the self-referential man, because at the end of the day it will be a game of power: in these cases there is no purpose in life, there is no meaning for the person, and at this moment the absence of purpose and sense of life is already wreaking havoc on both the extreme right and the extreme left. 
That is what reductionism brings you, at the end of the day, without a more transcendental meaning. Now, certainly there may be other concepts of transcendental meaning, you may have a transcendental sense of being Jewish, which may be mostly compatible with ours from the Catholic-Christian point of view, but in any case we have the two great commandments – plus what we are individually called to be able to "unfold": we unfold loving God and others. And that cancels the extreme right and the extreme left. 
Jordi Picazo: Regarding the double commandment of love that you mention in the New Testament in the Bible of "Love the Lord your God with all your heart, with all your soul and with all your mind." This is the main and first commandment. The second is similar to this: "You will love your neighbor as yourself (Mt 22,37-39)." It occurs to me that the second part is too important to forget and is often forgotten by many. But if you don't love yourself, how will one love one's neighbor? I believe that all this has a lot to do with personal healing and "unfolding" as a result of the therapy you propose. 
Paul Vitz: That is the function of a good psychotherapy. The clinical psychotherapist or therapist is talking to someone; and almost always with a "someone" who in a way is locked in a "prison." Prison are the mental structures that that human person has created and that hurt him. And your job is to get him out of that prison. And in our meta-model there is much of the development of the last hundred years in these areas. After all, if God created you, then despite sin and abuse you are basically good. And this implies that it is a sin to hate yourself whom God has created. 
As a patient, what you want to do with your pathologies is to understand them consciously in the first place, and then what you are going to do is to establish, in some way, a positive agenda to be able to get away from them and leave them behind toward a new flourishing or unfolding of the person: leave behind your traumas and sources of suffering. As a therapist this means that you have given patients more freedom. But simultaneously you must be able to provide them with the understanding of what freedom is for. It serves to "unfold," and we provide you with the description of what it means to deploy. 
Jordi Picazo: It seems that there is a need to clearly articulate the language for this type of speech, since the language can also be manipulated. 
Paul Vitz: Absolutely true. And that is the reason why our meta-model is the coordinated work of many people over 20 years of effort. And although the three editors have led this development for a long time, we must recognize so many others who have contributed. It is not only a personal achievement of any of us, but a group effort carried out systematically through intellectual debate and formal meetings over years of arguments about how we would present it to the general public. And it is thus important to insist that what we offer is a framework, and that is precisely why we describe it as a meta-model. It is a framework that consists of 11 basic premises: three theoretical, two teleological and six structural. 
Our meta-model is not a particular theory of therapy, nor is it even about how to apply therapy to your patients. We say that we will introduce some new ideas with which we will work, or that we will discuss: aspects such as the call to virtue and the call to a vocation, or how we will "unfold" once the therapy is over. It is a "goal"-model, "above." It is not a theory about personality, it is not like Fourierism or Unionism or the line of work of Carl Rogers, as I explained before. 
Jordi Picazo: Has the "theology of the body" of John Paul II influenced this study? 
Paul Vitz: Yes, it has had a great influence. And, in fact, John Paul II had finished publishing that material, his anthropology, a year or so before we started working on these problems. Then, yes, in many ways this work has been our response to his concepts and also a response to Benedict XVl's vision that psychology and theology can rely on each other. This is one of the ways to extend reason beyond mere experiment, beyond reductionist thinking. 
The Catholic-Christian Metamodel of the Person is integrated into the coursework at Divine Mercy University. It is the lens through which students determine the best ways to diagnose and treat common psychological problems. Sign up to learn more.