"You're never going to be worse off for having endeavored to learn," said Dr. Kathleen Dudemaine, director of the M.S. in Psychology program and adjunct faculty member at Divine Mercy University. This is a belief she clings to, which is exemplified in her self-proclaimed "devotion to education."
She has taught at the university level for over 35 years and still finds joy in designing courses for students. 
In a recent interview, she shared what inspired her to study psychology, how Catholic-Christian teachings have changed the field and the lasting impact she wants to make on students.
Q: How long have you been a faculty member at Divine Mercy University and how did you get involved?
Dr. Dudemaine: In 2014, I was invited to participate in the early development of the Master of Science in Psychology program. My research is in the area of course development and I was really thrilled to participate. Before this, I have never had the opportunity to combine the Catholic-Christian understanding of the human person with psychology — except in my head.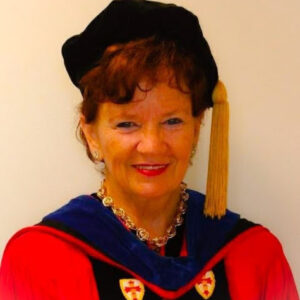 Q: What influenced you to go into the academic world of psychology?
Dr. Dudemaine: I started life as an English major but I wanted to promote human flourishing to whatever extent I could. I initially had been attracted to clinical psychology and I was also attracted to school psychology. In fact, in graduate school, I completed all the requirements for a master's in school psychology. 
Q: Which professional accomplishment are you most proud of?
Dr. Dudemaine: My work is behind the scenes through curriculum and program development for the Master's in Psychology degree. The things I am most proud of are the fact the program and courses that I have written are still up and running and successful –both at the undergraduate and graduate levels. Hopefully, they will continue long after I'm gone. 
Q: What has been your most fond moment in the field? 
Dr. Dudemaine: In the past year, I received an email from a student who saw my name and wondered if I was the same person who had taught them 30 years ago and as it turned out it was from when I taught at Rhode Island College. This person said that he had been in my course and he was going to leave college and I had convinced him to remain in the course. He wanted to say thank you to me. When you have touched somebody's life, even though you had no idea at the time that you were doing it, it could have profound effects. 
Q: What's your favorite course concept to teach?
Dr. Dudemaine: I find that students would prefer to interact with their phone so I make them interact with each other and that is something that the Catholic-Christian Meta-Model (CCMMP) of the Person* would predict that they would like, especially since we are interpersonally related. Even if students might be terrified of reaching out, it's something they need, want and like. I don't believe that a student learns in a vacuum. Students are required to think about the topic, submit an initial post, and respond to at least two of their classmates. This practice is based on the CCMMP and it's in every single course.
*The Catholic-Christian Meta-Model of the Person is a basic training approach for integrating a Catholic understanding of the human person, psychology, and mental health practice. This Meta-Model is the fruit of a longstanding and concerted effort of the university's faculty, with input from its student body and outside collaborators as well.
Q: What would you recommend to new students before starting the online Master's in Psychology program?
Dr. Dudemaine: I recommend students to stay committed. It might not be perfect, your best work or exactly what you wanted, but while I was in graduate school the best advice I was given was that a good dissertation is a finished dissertation. 
Q: How is the curriculum and experience at Divine Mercy University different from other higher education institutions?
Dr. Dudemaine: I think that our identity as a Catholic university is really important. All of our programs are tied, inextricably, to the CCMMP. Our university is very active in promoting and participating in the culture of life, whether it's in the workplace, the family or among people with clinical issues. We are always trying to promote flourishing and the culture of life. Because we include God in everything that we do, it's not just about the humans, ever. Let's say you have some problems and you go to someone trained in our program, they will think about what God would want to see shift in the situation. 
Q: What is your favorite work of literature to teach to new students?
Dr. Dudemaine: My favorite all time book is "Fear and Trembling" by Danish philosopher Søren Kierkegaard. It covers Abraham and how he walked and talked with God, and how he was willing to offer up his son to God. It's so full of insight and I share it with students all the time.
Watch Dr. Dudemaine's webinar on "How to Become a Transformational Leader Who Can Effectively Recognize Problems, Manage Teams, and Intervene During Crises."
Sign up to learn more about the online Master's in Psychology degree.