In September of 2018, Fr. Steven Costello ended his term as Divine Mercy University's chaplain in order to focus on completing his studies at the Pontifical John Paul II Institute for Studies on Marriage and Family in Washington, D.C.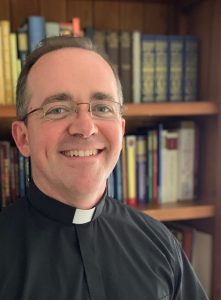 His absence was noticeable but short-lived, as he returned to DMU the following summer. But, in addition to returning to his role as university chaplain, Fr. Steven has taken on a new role: serving as a member of the faculty.
"I had asked for some time off to finish my doctoral dissertation at the Pontifical John Paul II Institute for Studies on Marriage and Family," he said. "Around January/February of 2019, as I was completing that, a position opened up here at the university. I interviewed in May and officially started as a professor in the Department of Integrative Studies in July."
As he nears the halfway point to his first year as a professor, we sat down with Fr. Steven to talk about his return and his new role at the university.
What influenced you to become involved at Divine Mercy University (DMU)?
"Psychology has always been an area of interest for me, and I truly appreciate the mission of the university and how we see faith as something that's more integral to being a human person, instead of just something you add on top of it. That initial point of the university was very attractive and something I had considered myself during my own studies. Now that I'm in it and more immersed in it as chaplain and professor, I'm beginning to see and feel how I can really contribute to that conversation. I love the general sense of how we want to see the human person while also bringing that message of mercy — through counseling, psychology and therapy — to those who are normally in pain or confusion and are seeking help."
Is the experience at DMU different from other psychology/education institutions?
"At DMU, I don't see any division between departments or between the faculty and students that would hinder them working together. There really is this desire within the faculty for all departments to come together, have conversations and build off one another, instead of everyone just staying together within their own department. There's a real openness to try and learn from one another that other schools don't have.
We had professors from elsewhere join us for the School of Counseling residency this past fall. When it was all done, Dr. Harvey Payne (dean of the School of Counseling) sent out an email thanking everyone for being a part of the residency, praising how great it was to be able to work with such an excellent group, and many chimed in on the email thread.
Those outside professors — whether it was their first residency with us, or their second or third — they went home knowing that there is something special going on at DMU. They noticed that there isn't the usual divide between professor and student. Obviously we're teaching them, but the students sense that we're all professionals in training and are treated as such. So we feel there is a connection; there's an availability and an approachability among the students, staff and faculty. We're trying to live out the integral model we have in our training. I think that comes through the teaching and just the environment in general."
Has there been any significant moment that has stood out in your collective time here at DMU?
"Both during my initial time as chaplain before and my time now as a professor, I was really impacted by graduation, especially this last year. The fact that it was in the upper church at the Basilica of the National Shrine of the Immaculate Conception didn't just add to the ceremony. You could really see the sense of accomplishment. It was definitely a highlight that we had really grown from the lower church. And then just to see the joy in the people's faces—and seeing the students I knew as chaplain. I had actually assisted with some of the residencies for the School of Counseling as chaplain, and I knew a lot of the students in that first cohort that graduated last year. To see the students graduating with their masters and doctorates was really special."
Are you excited about the future, both for the university and for yourself as a faculty member?
"Absolutely! We're in a new building now, and I'm really looking forward to help develop that culture here. Just among the faculty, we're seeing how we're really at a new stage; we're beginning chapter 2, so to speak. I'm just looking forward to continue gaining more and more expertise even in my own field so I can be more heartful in how I communicate it with students."