During this time of year–where young men and women across the nation donned their gowns and tassels with big smiles and walk before their friends and families to receive the degrees they worked so hard for over the last four years–many of those undergraduates will find themselves at a loss, unsure of what their next move is, doing things they never expected themselves to do, until they find the light that shines on the journey they're meant to take.
Abby Kowitz, from St. Paul, Minnesota, was one such undergrad. After graduation, Abby headed to Denver, Colorado, to serve as a missionary with Christ in the City, which seeks to encounter Christ in the poor and show Christ to them in return.
"While the purpose was beautiful," she said, "I couldn't help but think that something was missing. What I grew to realize was that, while the poor needed to encounter Christ as well as learn how to sustain their physical needs, mental health issues such as addictions, trauma, depression and anxiety often got in the way. I didn't know how to address those elements. My desire to serve the holistic person in mind, body and spirit is what led me to pursue a degree in counseling."
She searched for two years for graduate-level counseling programs that addressed the human person from a Catholic perspective, until her mother saw a promotion on EWTN announcing the new Master's in Clinical Mental Health Counseling program at Divine Mercy University (DMU). The rest, as Kowitz put it, is history.
This past weekend–Mother's Day weekend–she made her mother proud again, donning her own gown and tassel as one of twelve students in the very first graduating cohort from DMU's School of Counseling.
"We are grateful for being at this point of the journey with our first students graduating," said Dr. Harvey Payne, Academic Dean for the School of Counseling, "that we completed every course, and how well the students have done in their practicum and internships, which is really the proof in the pudding. Without our founding faculty–Dr. Steve Sharp, Dr. Benjamin Keyes , Dr. Matthew McWhorter, and the program development team lead by Dr. Stephen Grundman–there would be no program. They all have gone above and beyond for our program to create and deliver a high quality program for our students."
For many of the students who enroll, including Marion Moreland of West Virginia, the M.S. in Counseling program is a means of adding and improving upon the gifts and services they provide in helping others.
Moreland feels that providence helped in leading her to the counseling program at DMU.
"Four years prior," she said, "I was at a parish doing pastoral counseling and grief counseling. I think I had a misguided view of what counseling was versus pastoral counseling-type work, and how that involved integration of faith. When I learned about the Master's in Counseling, I saw that it was more of what I was looking for."
Another student, Anthony Flores, was formally employed at an inpatient psych unit for about three years, working one on one with different patients. Though he found the experience rewarding, he always felt a sense that he could do more. The potential to be able to walk alongside other people in the darkness and brokenness that they're experiencing drew him to his degree in counseling and, ultimately, Divine Mercy University.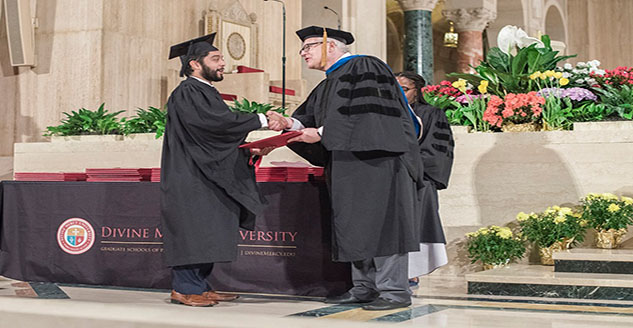 "I've always been a devout Catholic," he said. "It's such a central core of who I am. So, in terms of moving forward in my life and my career, I wanted to be really intentional about incorporating my faith into my work. DMU made that easy by introducing the Catholic Christian Meta-Model of the Person (CCMMP), a faculty publication explaining the relationship of the Catholic-Christian Meta-Model of the Person with the integrations of Psychology and Counseling. That really became our lens by which we view our clients through. I think that gives us a huge advantage over other institutions or universities that strictly take a secular view and don't look at the spiritual aspect of people."
One of the requirements of the program that every student must do is be supervised at an approved practicum-internship site for a minimum of 750 hours. After completing their practicum-internships, each student from this year's graduating cohort received something that many graduates may find hard to come by so close to graduation: job offers.
"All of the offers have come through their internships," said Dr. Payne. "What that means is that the individuals supervising them and the individuals directing the sites have recognized the high quality of their character and their work that they have done as practicum-internship students."
"In the human service world," he continued, "and true across different occupations, how one fits into the culture of the workplace is a critical determining factor as to whether people want you to stay, and I can't help but think that that is part of what has gone on. Our students have been able to fit in to a wide variety of settings from hospitals, to private practices, to Catholic Charities, to a wide range of different environments and most not having a specific Catholic-Christian worldview."
Moreland's internship was with Highland-Clarksburg Hospital–a psychiatric hospital–in her home state. While gaining critical experience through her internship, Marion saw how DMU's training differed from other graduate programs for mental health professions.
"I think what stands out the most is the way we look at people," she said. "In some ways, it's employing [a] Catholic [Christian vision of respecting how people flourish], but in a practical sense. Even if you take the faith aspect out of it, our training is more person centered as opposed to technique and diagnosis centered. It's about 'who is this individual in front of me' as opposed to 'there's a border line; there's a schizophrenic.' It's more focused on the human side of who we are."
In addition to their internships, both Moreland and Flores attended and assisted with workshops offered through DMU's Center for Trauma and Resiliency Studies (CTRS), becoming certified facilitators. For Flores, that meant a long drive each month from his home in Saginaw, Michigan, to the Virginia campus.
But it wasn't until Flores joined Dr. Keyes and a group from CTRS to Beirut that he understood the true weight and significance of the work of CTRS. He understood why he was pursuing such a career while having breakfast with a Syrian woman he met during that deployment.
Flores listened as a woman told him the story of her birthday. She was studying at the university in Aleppo when, all of a sudden, she heard a whistle outside, and then a huge explosion. The large window in front of her shattered and sent her flying back a few meters.
As she laid there on the floor, stunned, another classmate came up to her and asked about a question on the upcoming exam, as if nothing had happened, almost completely oblivious and disassociated from the event. Afterwards, they went to a local cafe to call their families and made it home a few hours later, and learned on the television that night that over 100 students had been killed in a missile attack.
"As she's telling me all this," Flores said, "she's smiling and laughing about it, as a way for her to deal with what happened and to tell that story. That struck me in such a way that I felt compelled to learn more about that–about trauma–about how, maybe, I can do something for these people that are suffering."
For these students, the M.S. in Counseling at Divine Mercy University has been one of their greatest and most difficult challenges they have ever endured–a real journey full of great challenges, obstacles and setbacks. But, in the end–having overcome those challenges both individually and as a group–this journey towards the first School of Counseling graduation in DMU history has proven to be a rewarding experience that will remain with them for the rest of their days.
"Receiving my Master's in Counseling from DMU has been one of the most influential experiences of my life," Kowitz exclaimed. "DMU has challenged, strengthened, and fine-tuned beliefs I already held as a practicing Catholic while teaching me how to implement them in a very practical and necessary way. DMU has provided me with a tangible set of tools and path to walk in the pursuit of my call to holiness. Through deepening my understanding and knowledge of the human person I am equipped to respond in a truly helpful way to whoever it may be that I encounter through both my clients but also in my personal life and relationships."
"We are all created good and that goodness is indelible," Dr. Payne said. "Our students are really people that are seeking to grow and be good for the service of others, a number [of people] having some real struggles and difficulties in life that we all have, and keeping their goal in mind and persevering, having grit to persevere to reach their goals. It has been great seeing how each one of the students in their own uniqueness have found their niches, if you will, for how God will be using them in the field of professional counseling."
If you're passionate about helping those who have witnessed or suffered serious trauma, or help those with serious mental illness, consider the M.S. in Counseling at Divine Mercy University.