Could you imagine the world without Christian psychology or counseling? A world where a secular approach to mental health would ignore the spiritual importance of their clients? Or a world that would be uncomfortable about the mere presence of a crucifix hanging on a counselor's wall?
Before the integration of faith and psychology was largely favored by social scientists in the 1960s and '70s, Dr. Paul C. Vitz, a then-atheist, was working as a cognitive/experimental psychologist at New York University. It wouldn't be until after reading literature by two British writers/lay theologians that he would explore the validity of fusing Christian principles with psychology.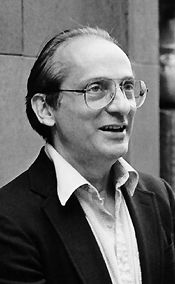 Nearly 45 years later, Dr. Vitz serves as a senior scholar for the Institute for the Psychological Sciences at Divine Mercy University, where his teachings and research focus on the integration of Christian theology and Catholic anthropology with psychology. His conversion to Catholicism in 1979 changed the trajectory of his career — consisting of seven book publications, a shared stage with the late psychologist Albert Ellis and innumerable lectures filled with hearty laughter, unforgettable charm and the ability to recall historic psychology-related events at the drop of a dime.
In an attempt to document his more recent ventures, he was interviewed in the comfort of his office at Divine Mercy University, located in northern Virginia. Here's what he had to say: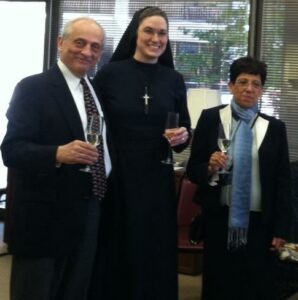 Q: How long have you been a faculty member at Divine Mercy University and how did you get involved?
Dr. Vitz: "I've been here since the very beginning in 1999. I met Gladys Sweeney [former dean] and Bill Nordling [former dean and current professor] during a visit to Washington, D.C., to teach psychology at the John Paul II Institute for Marriage and Family, located on the Catholic University of America campus. We all wanted to give continuing education (CE) seminars to provide a Catholic-Christian perspective on psychology. This led us to establishing the Catholic Institute for the Psychological Sciences (CIPS) program*, which consisted of seminars and lectures that provided CE credit."
*CIPS is now known as Institute for the Psychological Sciences (IPS) at Divine Mercy University, which offers two accredited graduate degree programs: a Doctor of Psychology (Psy.D.) in Clinical Psychology and an Master's in Psychology (online).
Q: What has been your most impactful contributions to the field of psychology?
Dr. Vitz: "I've written a number of books that have had some impact on the field. The first one I wrote was "Psychology as Religion: The Cult of Self-Worship," published by Eerdmans in 1977. That was the first kind of Christian critique of humanistic psychology. It made the most impact because, immediately, people outside of New York University (NYU) knew about my work. So all of a sudden, I ran into a lot of Christian intellectuals and academics (mostly Evangelicals and a few Catholic priests) who got in touch with me. The priests understood what I was doing, but they were more focused on theology and spirituality than psychology.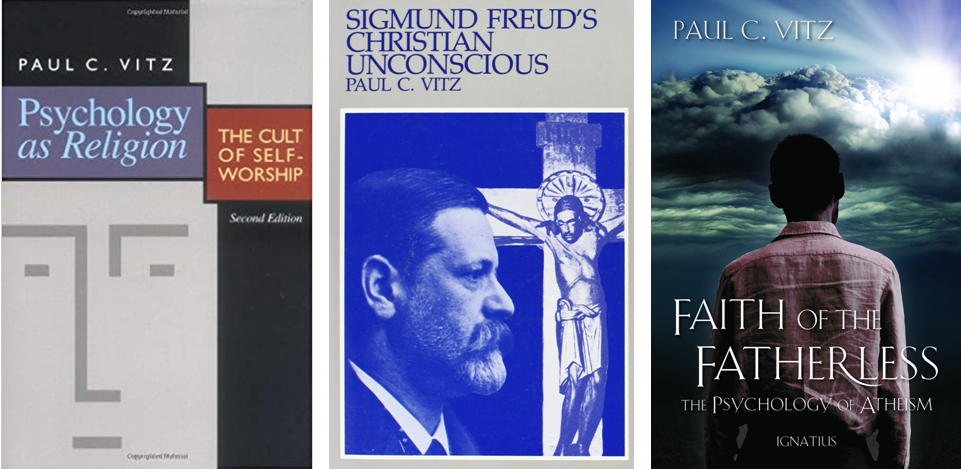 "For psychology, my next impact was a book 'Sigmund Freud's Christian Unconscious.' It put Freud in a very different perspective than that described by his secular biographers. It just got translated into Italian and published. My most recent impact is from 'Faith of the Fatherless: The psychology of Atheism,' revised edition published in 2013. There have been a string of articles also, on various other psychological topics."
Q: Who were the most influential "thinkers" of your life and why?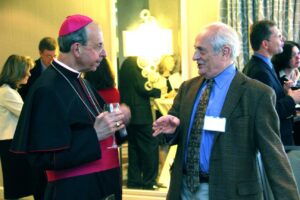 Dr. Vitz: "The most influential persons in my life were those who affected by conversion from atheism to Christianity — C.S. Lewis (Protestant) and G.K. Chesterton (Catholic). They were both very intelligent and knowledgeable and very able writers, but particularly C.S. Lewis made it clear to me that being intelligent, educated and Christian were completely compatible. In fact I saw that Christianity was far more meaningful and powerful than any political philosophy I had ever come across."
Q: Have you faced any obstacles in your career or research? How did you overcome them?
Dr. Vitz: "I had just become a tenured psychology professor at NYU and was working as a cognitive experimental psychologist. And then I became a Christian psychologist, which resulted in me stopping cognitive experiments and research for 45 years, until recently.
[At this point in the interview, Dr. Vitz gently tossed a document on the desk. The title on the cover reads "A hierarchical model of binary pattern learning," published in the Journal of Learning and Motivation (February 2019)]  "This [cognitive psychology] was the sort of research I was doing 45 years ago."
"I had obstacles at NYU. I had no colleagues in my department or in the university because there were no other supportive Christian professors. So it was a lonely, isolating environment, which was difficult. But that's why contact from Evangelicals at other universities was so important to me. Of course the department didn't like what I was doing so my raises dropped off. But I was hired as a cognitive/experimental psychologist and so I no longer met the Psychology Department needs, except for what I could contribute with teaching and administration. Anyway, God provided outside financial help which made up for low raises."
Q: Are you a member of any associations or organizations that help enrich your knowledge?
Dr. Vitz: I'm a member of the Fellowship of Catholic Scholars and the Society of Catholic Social Scientists.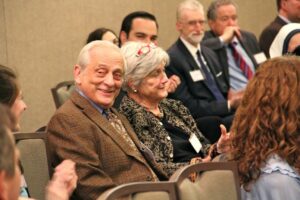 Q: What has been the most rewarding part of teaching for you?
Dr. Vitz: The most rewarding part is to teach intelligent, young Christians and Catholics the way in which psychology, and all of its scientific validity, can, in fact, be combined with the faith; and to see them understand it and then to develop it in new ways. It has also been exciting to be in contact with Christian psychologists, now, all over the world.
Q: What do you predict will change in the field of psychology?
Dr. Vitz: "A couple of things:
1) The hostility between most psychology and religion will decrease.
2) Religious integration with psychology will increase because there will be more evidence that religion can be a major help to people struggling with mental health problems.
3) And I believe this will lead to the development of more professional organizations with a pro-religious commitment, and these new organizations are likely to gain appropriate social and political influence.
"Overall, I think there's a big future for Christian psychologists and psychotherapists because the Catholic population has been the most neglected. In the United States, there are some disciplines that have too many professionals, in relation to the demand, but there are not too many Christian or Catholic psychologists."
Watch Dr. Vitz's video presentation "Uniting Faith & Psychology" to learn the significance of the approach on psychology by the Institute for the Psychological Sciences.
You can read Dr. Vitz's full biography on Wikipedia or our university's website.
Sign up to learn more about the psychology programs offered at Divine Mercy University.