Did you know that an eating disorder is a physical AND mental illness that affects people of ALL backgrounds? Instead of pigeonholing this condition to one particular category of people, National Eating Disorders Association's Awareness Week (February 25-March 3) is fostering inclusivity this year to show how this disease impacts "individuals at all stages of body acceptance and [to emphasize that all] eating disorders recovery …. stories are valid."
This message matches the association's 2019 theme: Come As You Are.
To gain more insight on eating disorders for this week of awareness, we reached out to clinical psychologist Laura Cusumano, Psy.D., who specializes in eating disorder treatment. She is also an alumna of Divine Mercy University and currently provides treatment through Potomac Behavioral Solutions in Arlington, VA.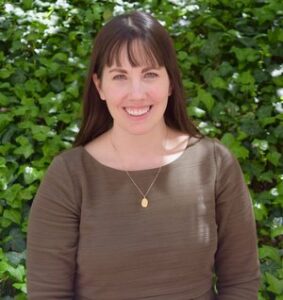 Dr. Cusumano has extensive experience working with people suffering from eating disorders, including anorexia nervosa, bulimia nervosa, binge eating disorder, and avoidant/restrictive food intake disorder (ARFID). In her 2017 dissertation for the Psy.D. program, she integrated the virtues of humility and temperance into Radically Open Dialectical Behavior Therapy (RO DBT) to develop a Catholic adaptation of RO DBT for those with anorexia nervosa. "I found the RO DBT material to be well suited for this adaptation," she said "and I would like to expand upon it in the future."
In an email response, she shared detailed answers to questions about eating disorders, their causes/effects, stigmas still associated with them and more! Read on to gain a deeper understanding of the disease that's estimated to impact 20 million women and 10 million men in America at some point in their lives.
Q – How can someone detect if their friend or loved one has an eating disorder, and how do you safely address it?
Dr. Cusumano – There are several subtle signs that may indicate that a person is struggling with an eating disorder. You may notice that your friend or loved one has started to talk about eating "clean" or going on a diet. The person may make negative comments about his or her body, express a desire to lose weight, and/or compare his or her body to other people's bodies. You may observe your friend or loved one making changes to his or her exercise routine, and the person may become anxious or upset if he or she misses a workout. Your friend or loved one may decline invitations to go out to dinner or prepare a separate meal when eating with others. During a meal, your friend or loved one may engage in unusual eating behaviors, such as cutting food into very small pieces. The person may also stop sharing meals with others altogether. You may also notice a change in your friend or loved one's mood and energy level.
If you are concerned that your friend or loved one may have an eating disorder, I encourage you to share your concerns privately with that person. Spend some time doing research on eating disorders so that you have information to share. Use "I" statements to express that you feel worried and to share things that you have observed about the person's behavior (e.g., "I'm worried about how frequently you're going to the gym."). Your friend or loved one is more likely to be receptive to what you have to say when you phrase things in this way. Having this discussion may feel awkward and uncomfortable for both of you, and that person may have a negative reaction or deny that something is wrong. Let your friend or loved one know that you are here to talk whenever he or she is ready and offer to provide the person with resources. Encourage your friend or loved one to seek professional help.
Q – What are common resources that you are confident in providing to men and women with an eating disorder? Are any resources gender specific? If so, why?
Dr. Cusumano – I really like the National Eating Disorder Association's (NEDA) website: www.nationaleatingdisorders.org. It has a wide breadth of information about the spectrum of eating disorders and how they typically manifest. The information on the website ranges from general (e.g., "What are Eating Disorders?") to specific (e.g., the "Identity & Eating Disorders" section). It is important to note that eating disorders can affect people of any race, ethnicity, sexual identity, or gender. There is gender-specific information on the NEDA website. This is because eating disorders manifest differently across different populations. For example, most women with eating disorders desire to have bodies that fit our culture's thin ideal. In contrast, many men with eating disorders have a drive for increased muscularity. Body image distress varies between men and women, and this should be taken into consideration during treatment planning.
The Academy of Eating Disorders, a professional association dedicated to eating disorder research, education, treatment, and prevention, also has a variety of useful resources available on its website: www.aedweb.org.
Q – How are therapists currently working with physicians to diagnose and prevent eating disorders?
Dr. Cusumano – When a patient starts therapy with me, I refer him or her to a dietitian for nutrition counseling and a physician for medical monitoring. Eating disorders can be life-threatening, so it is extremely important for the patient to work with a treatment team. Medical complications can include dizziness, fainting, dental problems, electrolyte imbalances, arrhythmia and other heart problems, muscle weakness, organ failure, and menstrual irregularities in women. It is essential for therapists to consult regularly with physicians about their mutual patients to ensure that patients are being treated at the correct level of care. A patient may underreport symptoms, and if medical stability is not assessed, he or she may not receive the proper intensity of treatment.
With regard to prevention, therapists encourage physicians to promote positive body image when talking to their patients and to educate them about nutrition and healthy amounts of physical activity. I have worked with patients who have reported that the only strategy their physicians recommended to address their health problems is to lose weight. Even though physicians may have good intentions when they make this recommendation to patients, the recommendation could backfire and trigger body image distress and an eating disorder in people who are predisposed to develop them. Therapists work to educate the physicians with whom they share patients in order to craft an approach that is both empathetic and direct about the dangers of eating disorders in an effort to prevent them.
Q – How can someone with an eating disorder reframe their thinking patterns so they do not consider themselves overweight or undesirable? 
Dr. Cusumano – Enhanced cognitive behavioral therapy for eating disorders (CBT-E) is an evidence-based treatment that has demonstrated to be effective in treating a transdiagnostic range of eating disorders, including anorexia nervosa, bulimia nervosa, and binge eating disorder. Treatment consists of helping a patient establish a regular pattern of eating and challenging the factors that maintain the person's eating disorder, such as dietary restraint and overevaluation of shape and weight (i.e., body image distress). Through the use of cognitive reframing, patients learn how to challenge their unhelpful thinking patterns in an effort to develop a more balanced way of thinking about themselves. The process of challenging one's cognitive distortions about body image is often difficult, and it can take a while for patients to recognize that their worth is not dependent on their appearance. It is often helpful for patients to participate in group therapy that focuses on body image so that they can support one another through this process.
Q – What is a misconception about eating disorders you'd like to be dispelled?
Dr. Cusumano – Most of the time, when people think of anorexia nervosa, they imagine that all those who suffer from anorexia are underweight. Anorexia nervosa is diagnosed when a person restricts his or her energy intake to less than what his or her body needs to function (based on factors including age, height, and gender), resulting in low body weight. Anorexia is also characterized by an intense fear of gaining weight or becoming fat, and body image disturbances are also present. Despite the diagnostic criterion regarding low body weight, anorexia can affect people of all shapes and sizes. The intense fear of being fat and body image distress can occur in people who restrict their energy intake and remain in a normal weight range or above average weight range. This is known as atypical anorexia nervosa. Many of my patients who struggle with restriction have a formal diagnosis of atypical anorexia. It is a myth that a person must be underweight to suffer from anorexia.
Q – After getting your Psy.D. degree, what other training did you seek to specifically treat clients with eating disorders?
Dr. Cusumano – My primary training in treating people with eating disorders actually took place while I was still enrolled in the Psy.D. program in the Institute for the Psychological Sciences at Divine Mercy University. I completed my internship at The Emily Program in Minnesota. The Emily Program is dedicated to providing treatment to those suffering from eating disorders. During my internship, I worked at the outpatient, intensive outpatient, and partial hospitalization levels of care. I had wonderful supervisors who guided me through learning evidence-based methodologies for treating eating disorders. I learned how to support patients during therapeutic meals and to challenge them to use skills effectively so that they could work toward recovery. My time at The Emily Program was extremely valuable to my development as a therapist specializing in the treatment of eating disorders. Currently, I work as a postdoctoral fellow at an outpatient practice that specializes in providing evidence-based treatment of eating disorders. I have gained training in family-based treatment (FBT) for anorexia nervosa, which is the primary evidence-based treatment for adolescents. I hope to continue my training and may pursue certification as an eating disorder specialist later in my career.
Q – What advice would you give to parents who think their child or teenager has an eating disorder?
Dr. Cusumano – As a parent, recognizing that your child is exhibiting signs and symptoms of an eating disorder can be frightening and leave you feeling helpless. If you suspect that your child has an eating disorder, it is important to discuss your concerns with your child in a compassionate, not critical, manner. Remember, your child is suffering from an illness, and he or she is not completely in control of his or her behaviors. When you talk to your child, focus on the behaviors you have observed, rather than your child's appearance. Use "I" statements when sharing your concerns. Gather information from resources such as the NEDA and AED websites, and seek professional support. Many parents will find FBT to be the best treatment option for their child. From an FBT perspective, parents are the best equipped at providing the care that their child needs to recover from an eating disorder. An FBT therapist will guide and empower parents to take control back from their child's eating disorder so that their child can recover. If your child is struggling with an eating disorder, know that recovery is possible! Treatment outcomes are generally positive when eating disorders are detected early.
Learn more about the Doctor of Psychology (Psy.D.) in Clinical Psychology program offered at Divine Mercy University to gain skills to treat those who suffer from eating disorders.