Although it won't officially open until next fall, Divine Mercy University's new campus-in-progress in Sterling, Virginia, served as the host facility for this fall's residency for the Master's in Counseling program.
This was the first residency hosted at DMU's future home just off of Old Ox Road. It was also the largest cohort that DMU has ever hosted, with 38 students from all over the United States converging on Northern Virginia. The residency went from October 10th-14th and, for many of the students, this was the first opportunity to meet their DMU instructors and each other in person.
"I met my professors online before I met them in person," said Dawn Costanzo, a counseling student from Front Royal, VA. "We had already established a relationship by interacting through Zoom sessions, emails, and assignment feedback. When I did meet them in person, I felt that I already knew them."
"It was reassuring to see peers classmates, cohorts there," said Travis Speier of Nashville, TN.  "It was a pretty unique way to get to know everyone. I felt like I was on retreat with the atmosphere endowed, anointed, and in a sacred space."
For Anthony Coppage of Dothan, Alabama, meeting his classmates and professors in person was a refreshing and defining moment in his online education journey.
"Flying out to D.C.," he said, "waking up each morning in a dorm setting, and riding on a bus with classmates to participate in the application of my online education in a very hands-on way was extremely welcomed. The physical presence of both my cohorts and professors cannot be understated.  We were able to share experiences and connections that would not have been possible through modern technology. I believe many life-long connections were forged during those wonderful four days."
The residency component of selected courses is required of students in the Master's of Counseling program, and takes place on three extended weekends (Wednesday-Sunday) within the duration of the program. While at the new campus, the students, faculty and attending support staff engaged in a number of group discussions presentations, including a panel discussion made up of faculty members discussing professional ethics and hot topics in the world of Catholic counseling, allowing the students to learn how to navigate between the roles of faith and counseling.
"I think the best part of the residency was meeting the faculty," said Edith Ray of Louisiana. "I was encouraged by their example of love for us as students and I felt like they truly are committed to supporting me in my future graduate studies. In addition, I was inspired by their obvious love for their vocations to counseling and teaching as well as to their clients."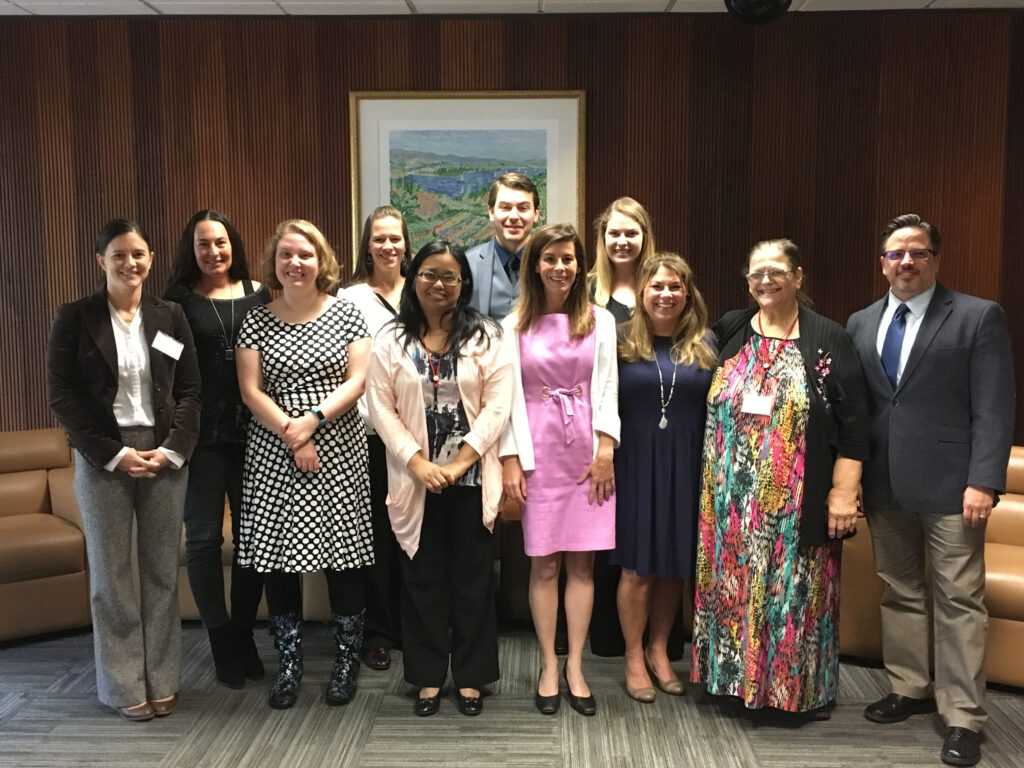 On Friday and Saturday, the students divided into groups of three and jumped right into skills development workgroups.
"I was shocked that we would actually be practicing clinical techniques so soon in program," said Speier. "We were given scenarios to act out and basic techniques to practice on one another. I was shocked considering how soon we were, but it really was a good experience.
During the workshops, each group was visited by faculty, who would sit in and observe as the students played out their scenes and offer feedback, pointers and identifying weak spots for improvement as the sessions progressed.
"For me," said Speier, "it was an experience that was not easy: the idea of being a counselor and wanting to talk to people, hear their story, what they are dealing with. The experience of being the one counseling–asking open ended questions, keep the client discussing, summarizing what was said, demonstrating cohesion–was personally the hardest role to play."

Despite the challenges, each student was able to take the skills and techniques they were learning in class and actually apply them in a counseling session setting, receiving positive feedback and critiques from the other students.
"I found it difficult to think about open ended questions," Speier said, "finding myself thinking about what my next question would be while the person was talking, struggle to stay present. That was tough. The role of the supervisor was about trying to hone in on objective manifestations seen, where bodily, emotional, verbally or even spiritual signs were noticed while other two are counseling each other. It was very interesting to see body language from that perspective."

"The workshops and especially the roleplay were my favorite aspects," said Coppage. "I was able to absorb a lot more in person from interactive discussions. Roleplaying was a personal and profound experience where I acquired a real taste of things to come. I could really sit down and understand my strengths and weaknesses as a future counselor."
On Sunday, the final day of the residency, each student received a one-on-one evaluation from one of the many faculty members on site–highlighting strengths to continue developing and weaknesses to address–leaving the students with the confidence of knowing where they stand and what they need to improve on as they continue their journey.  
"The residency provided an opportunity for us to practice these skills in-person, to receive feedback from our peer clients and from the professors," said Costanzo. "I left the residency more comfortable in my role as a future counselor and more confident in my abilities to help others. I'm grateful that this opportunity to practice helping skills comes early in our sequence of classes; it was an opportunity to confirm my commitment to becoming a counselor."
"There is nothing like the personal and physical application of intellectual knowledge," said Coppage, "and my first residency experience is one that I will always truly cherish and remember throughout my career."
For Speier, even with the packed schedule throughout the extended weekend, the information and pointers discussed during the residency's workshops–honed in on by the faculty addressing the global need for good, well formed clinicians–left him with a stronger understanding of the gravity of the counseling profession.
"With Dr. Keyes' trauma program," he said, "the stories and experiences they shared over the years, I became more and more aware how much of a vocation this is. It's not just about my desire; there is a good possibility that God has something to do with this. These are lives– people's lives–we have a chance to engage in a very unique way and enter into a sacred space. That relationship is profound, with a feeling of awe and being in presence of something awesome. That feeling was nurtured throughout residency and grew."

Learn more about our M.S. in Counseling by visiting  https://divinemercy.edu/.