Dr. Harvey Payne humbly acknowledges the gift of counsel as God's use of mankind to help other people heal, grow and develop.
As Academic Dean for the School of Counseling at Divine Mercy University, he helps position students to become licensed counselors who later provide therapy for people across the world.
"My biggest joy as a counselor is having people contact me after 10 or 12 years since I worked with them and them letting me know how they're doing and how they've continued to grow and flourish" said Dr. Payne.
He has practiced as a mental health professional for 30 years in the U.S., Kuwait, Saudi Arabia and Kazakhstan. He also has 11 years of academic experience, including years of service as the dean for a college of counseling.
In the interview, Dr. Payne detailed his experience in the field and how it molded him into the academic dean for a Catholic-Christian graduate counseling program.
Q: How did your experiences as a counselor differ from those as a psychologist?
Dr. Payne: The thing that strikes me is how similar the two are. This is because both roles consisted of trying to understand the person that I was sitting with – their views, emotions, thoughts. This would allow me to help them dig deep into the good desires of their heart and figure out how to best flourish in the midst of whatever suffering or difficulty they were experiencing.
The big difference for me is that my doctoral degree and training in clinical psychology had a specialization in working with children and adolescents with neurodevelopmental disorders and learning how to assess using psychological tests to better understand them and help parents and the school work with them.
In 1984, I graduated with a master's in counseling – similar to our degree at DMU – that really taught me the primary skills of how to sit with people, develop a working relationship, get a basic understanding of people, and use techniques to work with them.
After getting my counseling degree, I developed a community counseling center and supervised other counselors. I then realized that I wanted more in-depth training and that moved me to getting my Psy.D. degree in 1990. I later completed my postdoctoral fellowship at a children's hospital in 1991.
Q: How is the curriculum of the Master of Science in Counseling program at Divine Mercy University tied to the Catholic-Christian faith?
Dr. Payne: The way we understand people is from our Catholic-Christian Meta-Model of the person, so that's the lens that we see everyone, which is foundational to all our courses. We emphasize that people are created for the good and that their desire and movement is towards the good – even with pain and disorder.
A key  focus in our Catholic-Christian Meta-Model of the person is the deep need for relationships to grow. So when we look at someone who is struggling we don't look at them as pathological, we try to look at the relationships that they need to heal and develop. Those aspects are woven through all of our courses.
Q: Unlike other Master's in Counseling programs, the one at Divine Mercy University places an emphasis on moral character and spiritual flourishing, crisis and trauma, a systemic model of the person, and addictions. What influenced you to include these counseling principles and why do you think it's important for students to have this knowledge?
Dr. Payne: There is a distinct reason we included each of these principles in our curriculum.
Moral character and spiritual flourishing: We believe who the counselor is and how they relate to others is the most critical variable in helping people. So making sure that your own spiritual and moral life is flourishing is vital to help other people. The saying "Transformed people, transform people" is the way we like to think about this relationship dynamic. We also recognize that people, especially those in America, who are religious and spiritually minded is very high.  Researchers report that 96% of individuals living in the United States believe in God; more than 90% pray; 69% are church members; and 43% have attended church, synagogue, or temple within the past 7 days (Princeton Religion Research Center, 2000). With this knowledge, we are able to understand the perspective of people who seek counsel, effectively develop our program and properly train students.
Crisis and trauma: We know that there's a very high rate of trauma (e.g. sexual, physical abuse, natural disaster, domestic violence, etc.) that people go through on a daily basis. Without an understanding of crisis and trauma we would be missing a big component of understanding people.
Systemic model of the person: This model is an understanding of people based on their relationships, such as family and friends, and their attachment to others. As social creatures, it is important to know the history of relationships and how they are attached to understand the behaviors of a person.
Addictions: As a Catholic-Christian university, we understand that in our faith people work on developing habits of virtue. However some people adopt habits, or addictions, for coping that end up being more harmful than helpful.  So we work to help them flourish with better ways of resolving of handling their struggles.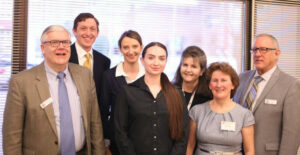 Q: Aside from academics, which qualities make someone a strong candidate for the M.S. in Counseling program at DMU?
Dr. Payne: We're looking for people who have basic interpersonal skills. Also, people who have a heart and passion for other people and feel comfortable working with them. But if the individual doesn't come in with those skills it is very difficult to develop them.
Another thing we look for is grit: the ability to keep plugging even when the going gets tough. This quality is important because the coursework, training and ongoing work will be challenging. So people need to have a sense of perseverance. We also want them to understand that they're not out there drowning on their own; we're in the water with them to guide and support them.
We also look at a sense of compassion for people, regardless of their situation or state. We're really looking for students who want to help a wide variety of people.
Q: Any advice you'd give to a newly licensed counselor that you wish you knew when you started?
Dr. Payne: I'd tell them that it might feel like you have finally arrived and now you don't legally need supervision, but my advice would be to find a group of like-minded counselors and mental health professionals for clinical, professional and personal support. Counseling is not something that you want to do on your own – especially when you have a challenging case. There will be times when you need to get information and help from other people.
Q: How are students able to gain clinical experience from an online program? In other words, how do the online learning platform and three on-site residencies adequately prepare students to become licensed professionals?
Dr. Payne: At Divine Mercy University, we use innovative technology and break students up into a triad (counselor, client and observer) in a virtual classroom. We are able to view and videotape students as they participate in "role plays." While they're practicing the skills, their instructor virtually enters into the room to observe, give feedback and even provide additional feedback after watching recordings.
We also have three on-site residencies where students come to the campus in person. That's a time of intense hands-on training and meeting students to see how they're doing. All students also have a year-long practicum and internship in their local area before they can graduate.
Q: Lastly, what has been your most fond experience as a counselor or as the dean for the School of Counseling?
Dr. Payne: My most fond experience as dean is watching the profound growth and change of students throughout the program – from interviewing them as applicants, seeing them at the residencies and seeing them flourish in this vocation of counseling. I enjoy following the personal, professional and clinical development of our students.
Learn more about the Master of Science in Counseling program at Divine Mercy University.