On All Saints' Day, we wanted to share with you the profiles of four saints who are patrons of those who struggle with mental illness as a source of hope and intercession.
Saint Benedict Joseph Labre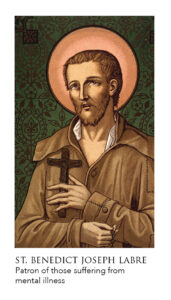 St. Benedict Joseph Labre, "The Beggar of Rome", was born in 1748 in Amettes, France. As one of 18 children, he left home at a young age to study under his uncle to become a priest. After several years of studying and not being accepted into an order, Labre left everything behind to devote himself to the Church, with special devotions to the Blessed Mother and the Blessed Sacrament. Labre spent his life traveling from shrine to shrine through Europe relying only on the generosity of others. As a beggar he slept on the street and begged for sustenance. However, he was known to share what little he had with those around him. In his 30's Labre slept in the ruins of the Colosseum in Rome, until he died in 1783 at the young age of 35. St. Benedict Joseph Labre is the patron saint for those living with mental illness and the homeless.
Prayer to Saint Benedict Joseph Labre
Saint Benedict Joseph Labre, you gave up honor, money, and home for love of Jesus. Help us to set our hearts on Jesus and not on the things of this world. You lived in obscurity among the poor in the streets. Enable us to see Jesus in our poor brothers and sisters and not judge by appearances. Make us realize that in helping them we are helping Jesus. Show us how to befriend them and not pass them by. Obtain for us the grace of persevering prayer, especially adoration of Jesus in the Most Blessed Sacrament.
Saint Benedict Joseph Labre, poor in the eyes of men but rich in the eyes of God, pray for us. Amen
Saint Dymphna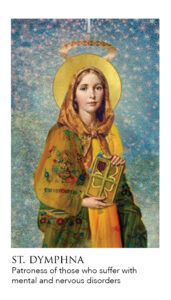 Saint Dymphna was an Irish girl with lived in the 7th century. She was the daughter of a pagan king, Damon, and a Christian mother. At a young age Dymphna devoted herself to Christ and took a vow of chastity. When her mother died, her father, who's mental illness with progressively getting worse, looked for a new bride that looked like his late wife. After not finding a woman who bore his late wife's resemblance, Damon became infatuated with his daughter Dymphna because of her resemblance. At the age of 14, Dymphna fled Ireland to escape her father and settled in Geel, Belgium where she opened a hospice and for the poor and sick. After her father searched for and found her, he was enraged that she would not return home with him and beheaded her. To this day the town of Geel, Belgium has become a hub for those who are suffering from mental illness to seek refuge and healing. Saint Dymphna is the patroness of those who suffer from mental and nervous disorders.
Prayer to Saint Dymphna
Good Saint Dymphna, great wonder-worker in every affliction of mind and body, I humbly implore your powerful intercession with Jesus through Mary, the Health of the Sick, in my present need. [Mention it.] Saint Dymphna, martyr of purity, patroness of those who suffer with nervous and mental afflictions, beloved child of Jesus and Mary, pray to Them for me and obtain my request.
[Pray one Our Father, one Hail Mary, and one Glory Be.] Saint Dymphna, Virgin and Martyr, pray for us.
Saint Christina the Astonishing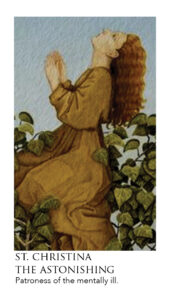 Saint Christina the Astonishing was born in Brustem, Belgium in 1150. In her early 20's she suffered a seizure and was pronounced dead. During her funeral, she arouse from her coffin during the liturgy and was completely healed and full of vigor. Saint Christina said that while she was dead she visited Heaven, Purgatory, and Hell. She was given the option to stay in heaven or continue her life on earth as penance for the souls in Purgatory. She spent the rest of her life performing acts of penance such as throwing herself into fire and rivers and living in poverty. She was imprisoned on two occasions for being a danger and being mentally ill. She died of natural causes at the age of 74. She is a patron saint of those who live with mental illness.
Prayer to Saint Christina the Astonishing
St. Christina, you lived a life of poverty and loneliness in the eyes of others. But you knew that in the eyes of God, you were wealthy and has His love and the companionship of saints and angels. Help us to see beyond the things of the world and to realize we are never alone. Pray that we remember to offer up our sufferings for those who do not see beyond the material and who are seeking love and fulfillment, that they may come to know God and realize that they are never alone.
Saint Christina the Astonishing, pray for us.
Venerable Matt Talbot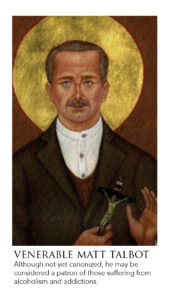 Matt Talbot was a man who lived in Ireland from 1856-1924. He came from a family of heavy drinkers and at the young age of 13 was considered a hopeless alcoholic. When Matt turned 28 he decided to take the pledge and commit to a life of sobriety. For the last forty years of his life Matt remained sober, finding strength in prayer, daily mass, and religious studies. Matt was a hard worker working in the timber yard and choosing the most difficult jobs. After his death Matt was regarded for his piety and a bridge was named after him in Dublin. Although not yet canonized, he may be considered a patron for those suffering from alcoholism and addictions.
Prayer to Venerable Matt Talbot
Lord, in your servant, Matt, Talbot, you have given us a wonderful example of triumph over addiction, of devotion to duty, and of lifelong reverence for the Most Holy Sacrament. May his life of prayer and penance give us the courage to take up our crosses and follow in the footsteps of Our Lord and Saviour, Jesus Christ. Father, if it be your will that your beloved servant should be glorified by your Church, make known by your heavenly favors that power he enjoys in your sight.
We ask this through the same Jesus Christ Our Lord. Amen.
—-
Divine Mercy University offers psychology and counseling graduate-level degrees that help train students to become mental health professionals. Request degree information today to help those who suffer from mental illness.